BISO VX Crop Ranger Trendline Light
The basic model Trendline light with the perfect cost/performance ratio and its heavily reduced weight
is therefore suited specially for middle class combines. If required it can be equipped with different optional
Highlights like hydraulic angle adjustment, electrical reel tine adjustment, splashguard and so on.
Thus, each farmer can put together the header exactly according to his needs.
THE ADVANTAGES AT A GLANCE:
700 mm stepless movable cutterbar for optimal knife position for each cereal
integrated, easy foldable side knives increase the comfort during change from cereals to rape enormously
hydraulic angle adjustment for flat crop and different soil conditions (Option)
electric reel tine adjustment for optimal reel operation with all conditions (Option)
wrap protection for the reel to avoid wrapping round of weeds (Option)
robust stainless steel intake auger improves the appearance and longevity (Option)
splashguard to prevent grain losses (Option)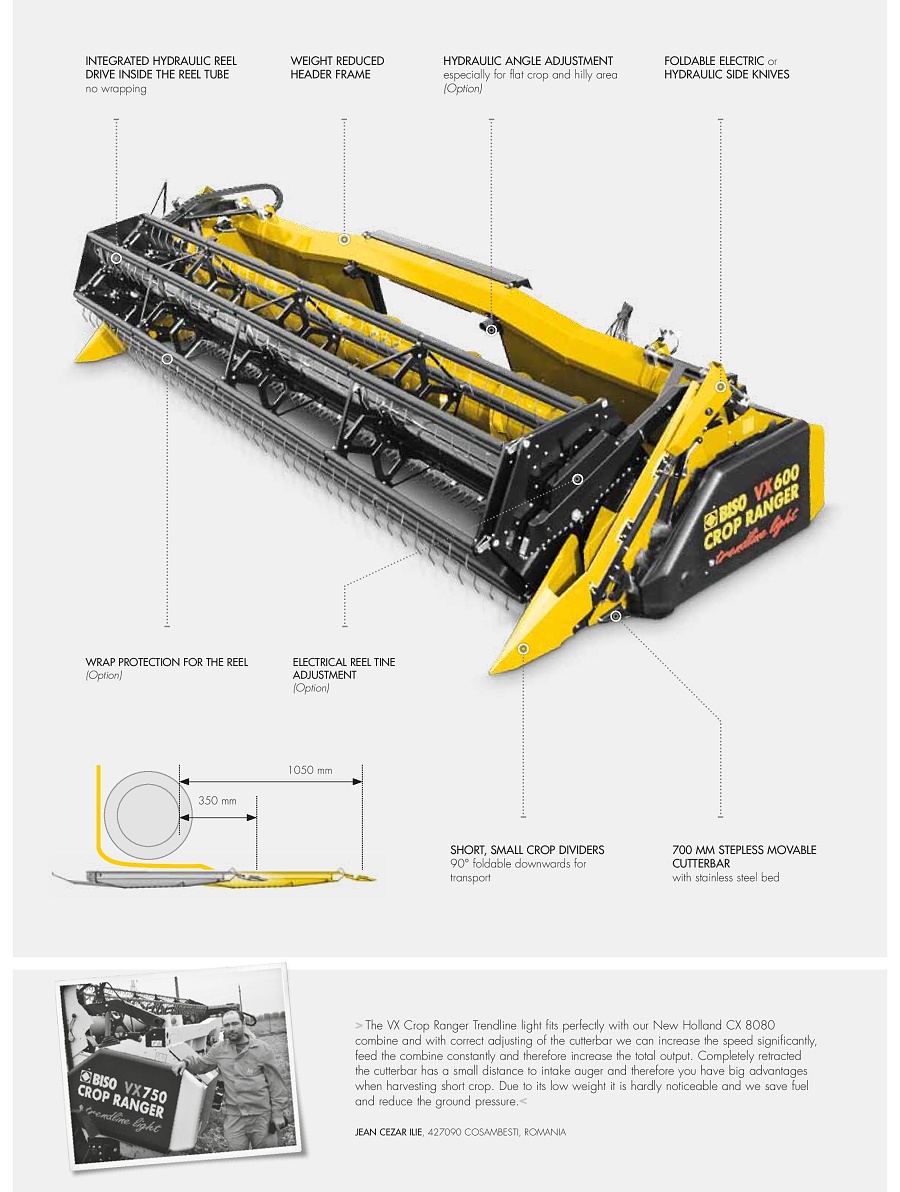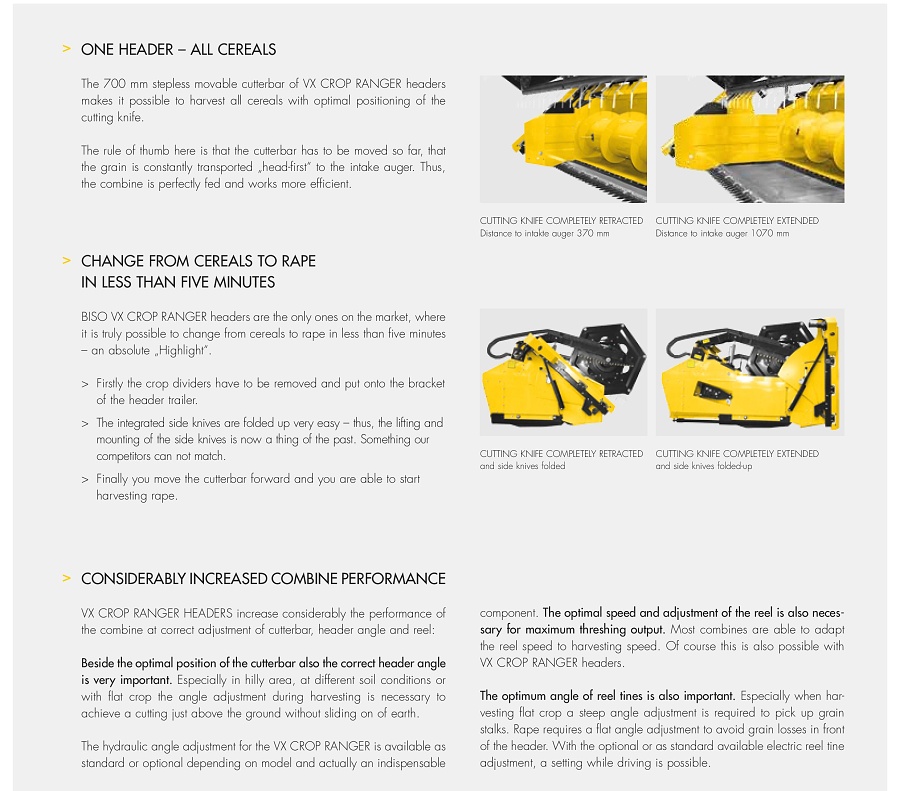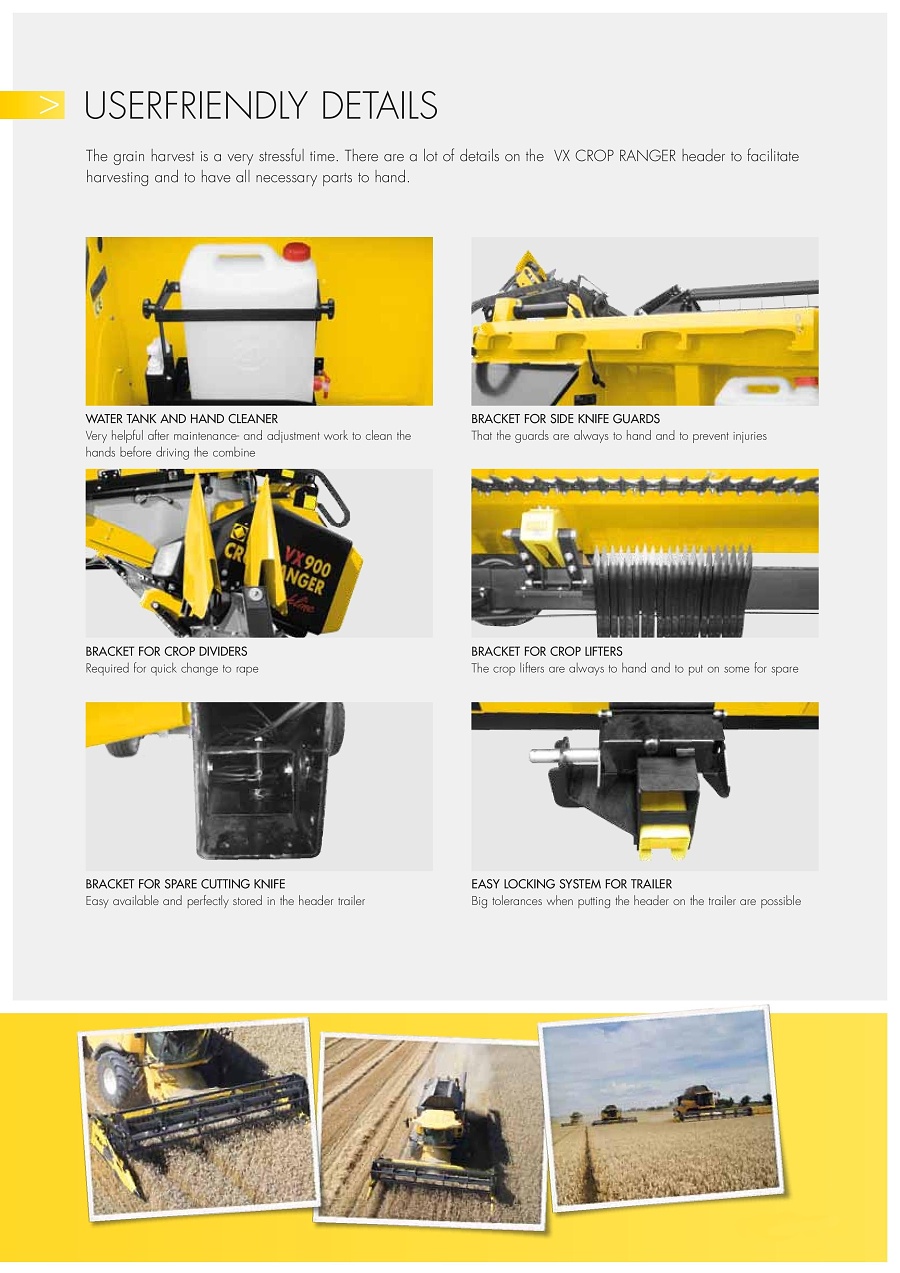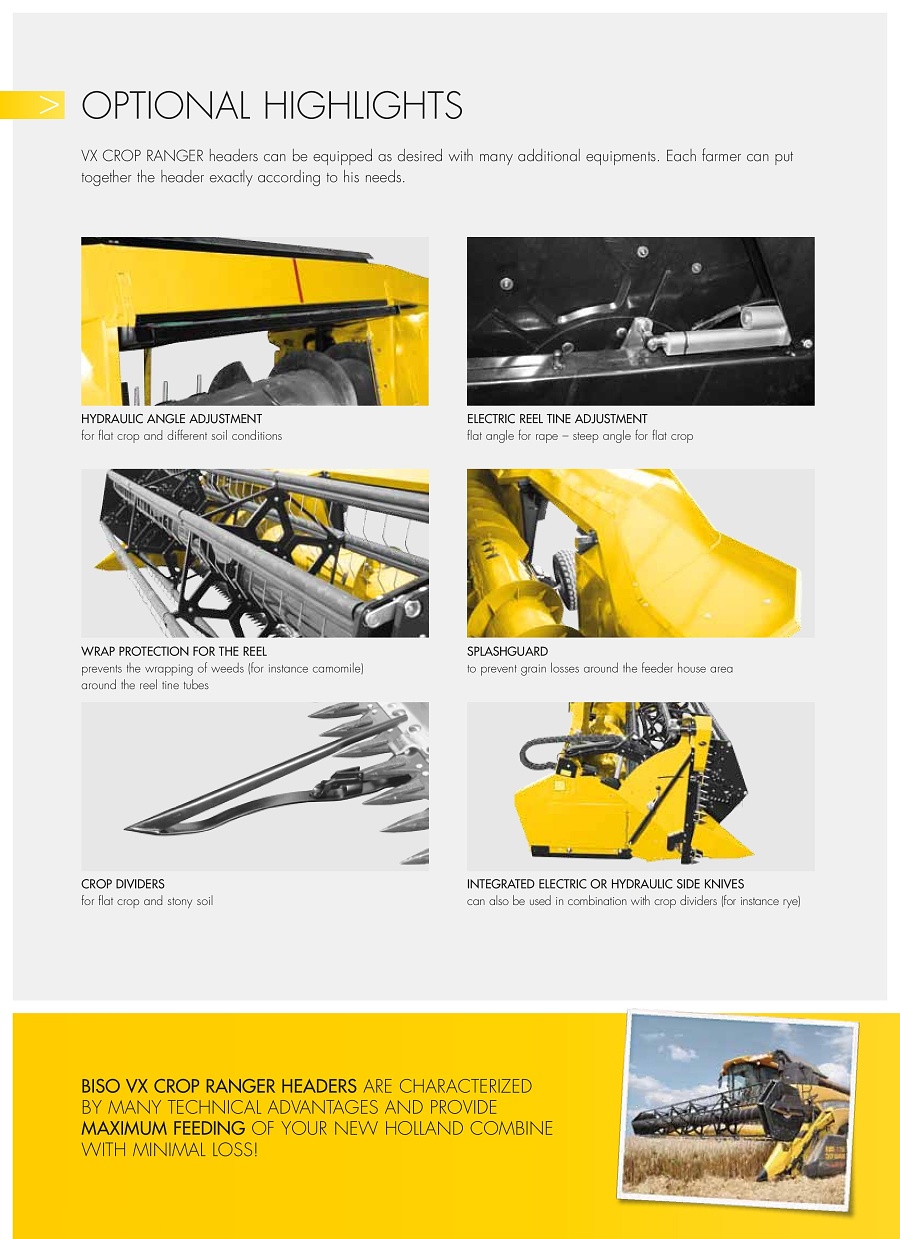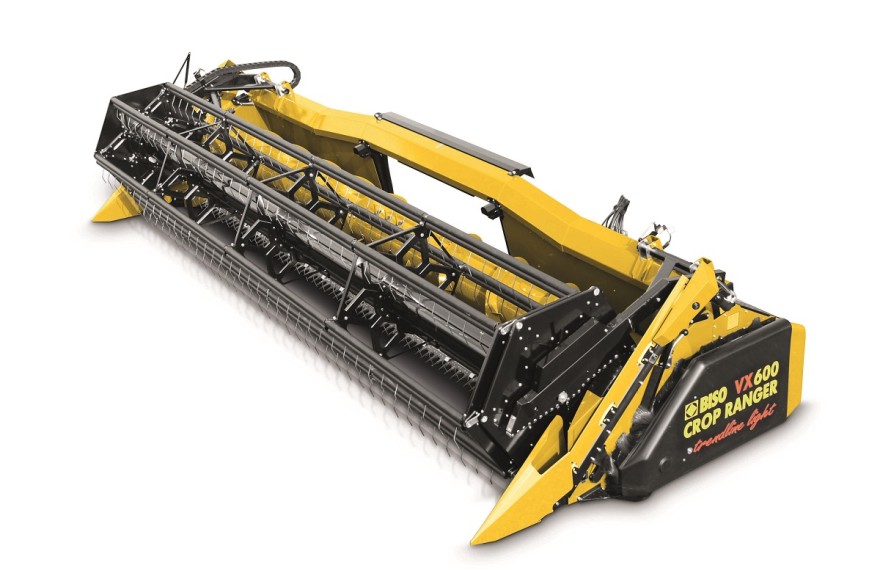 SPÉCIFICATION (MY2020)
Description:
Équipement de base
700 mm continuous cutterbar movement on to a stainless steel bed
integrated side knives
– can be folded back when not in use
– fan shaped metal sheets fold automatically at the same time
manually adjustable reel tine angle
intake auger Ø610 mm outside, Ø410 mm inside
bolt on knife sections
hydraulic fore and aft reel adjustment (hydraulic cylinders inside)
automatic reel speed and synchronization (if available on the combine)
integrated hydraulic reel drive inside the reel tube
water tank and hand cleaner fixed to the back of the header
(not possible at VX 405)
large auto-float skids
mechanical angle adjustment
Données techniques:
| | | | | | | |
| --- | --- | --- | --- | --- | --- | --- |
| Type | TL 405 | TL 500 | TL 550 | TL 650 | TL 750 | TL 850 |
| Working width (mm) | – | 5050 | 5510 | 6500 | 7490 | – |
| Outside width with 2 hydraulic side knives (mm) | – | 5680 | 6140 | 7130 | 8120 | – |
| Outside width with 2 electric side knives (mm) | – | 5760 | 6220 | 7210 | 8200 | – |
| Cutterbar depths retracted/extended (mm) | 370/1070 | 370/1070 | 370/1070 | 370/1070 | 370/1070 | 370/1070 |
| Reel diameter (mm) | 1070 | 1070 | 1070 | 1070 | 1070 | 1070 |
| Auger diameter inside/outside (mm) | 410/610 | 410/610 | 410/610 | 410/610 | 410/610 | 410/610 |
| Spare knife | Yes | Yes | Yes | Yes | Yes | Yes |
| Water tank and hand cleaner | No | Yes | Yes | Yes | Yes | Yes |
| Weight wrap protection for the reel (kg) | – | 17 | 18 | 20 | 22 | – |
| Weight splashguard (kg) | – | 37 | 40 | 45 | 50 | – |
| Number and weight crop lifters (kg) | – | 16/19 | 17/20 | 20/24 | 24/29 | – |
| Weight 2 crop dividers (kg) | 30 | 30 | 30 | 30 | 30 | 30 |
| Weight 2 electric side knives (kg) | 90 | 90 | 90 | 90 | 90 | 90 |
| Weight 2 hydraulic side knives (kg) | 120 | 120 | 125 | 125 | 125 | 125 |
| Weight header – without options (kg) | – | 2190 | 2280 | 2500 | 2710 | – |
Prix:
| | | | | | | | |
| --- | --- | --- | --- | --- | --- | --- | --- |
| | TL 450 | TL 500 | TL 550 | TL 600 | TL 650 | TL 750 | TL 850 |
| BISO VX CROP RANGER TRENDLINE LIGHT | * | * | * | * | * | * | * |
| réglage hydraulique de l'angle du tablier de coupe | * | * | * | * | * | * | * |
| réservoir d'eau intégré | – | – | * | * | * | o | o |
| lubrifi cation centralisée des pièces | * | * | * | * | * | * | * |
| carter de protection | * | * | * | * | * | * | * |
| couteaux latéraux repliables intégrés (gauche & droite) | * | * | * | * | * | * | * |
| couteau latéral repliable (droite uniquement) | * | * | * | * | * | * | * |
| couteaux latéraux avec des paliers lisses 2 points | o | o | o | o | o | o | o |
| mouvement « vario » 700 mm | o | o | o | o | o | o | o |
| releveurs d'épis | * | * | * | * | * | * | * |
| réglage de l'angle des griffes du rabatteur | * | * | * | * | * | * | * |
| protection de la tube des griffes du rabatteur | * | * | * | * | * | * | * |
| contrôleur hydraulique du rabatteur (intégré) | o | o | o | o | o | o | o |
| protection mécanique contre la collision entre couteaux et griffes | o | o | o | o | o | o | o |
| vis d'alimentation en inox Ø 610 mm | * | * | * | * | * | * | * |
| arbre de cadran à grand angle | * | * | * | * | * | * | * |
| cueilleurs à tournesols | * | * | * | * | * | * | * |

o – équipement standard      – indisponible      * – contactez-nous pour l'offre de prix

Remorque:
| | | | | | | | |
| --- | --- | --- | --- | --- | --- | --- | --- |
| | TL 450 | TL 500 | TL 550 | TL 600 | TL 650 | TL 750 | TL 850 |
| 1-essieu BISO SWIFT | * | * | * | – | – | – | – |
| version « Profi » 40 km/h | * | * | * | – | – | – | – |
| 1-essieu BISO TANDEM | * | * | * | * | * | – | – |
| version « Profi » 40 km/h | * | * | * | * | * | – | – |
| 2-essieux BISO Profi | – | – | * | * | * | * | * |
| version « Profi » 40 km/h | – | – | * | * | * | * | * |
| 2-essieux avec 4 roues directrices BISO Profi Steer | – | – | – | – | * | * | * |
| version « Profi » 40 km/h | – | – | – | – | * | * | * |

o – équipement standard      – indisponible      * – contactez-nous pour l'offre de prix